Returnable Container Program
Reduced Costs and Efficient Supply chain
In view of maintaining the supply chain, Advent Chembio has come up with a Returnable Container Program that delivers performance, convenience, and safety for your high-purity solvents, especially HPLC Grade Acetonitrile.
The Returnable Container Program starts with your choice of sealed stainless-steel (SS 316 L) containers, filled with high-purity HPLC grade Acetonitrile, the solvent that is most often used during analysis or manufacturing processes. Our program comes in various SS drum sizes such as 25 L, 50 L and 200 L drums.
Once the drum is at your facility, the solvent can be safely dispensed without risking contamination, spillage, or personal exposure. When the container is almost empty, the customer has to let us know and we will replace it with a full one so your work remains uninterrupted.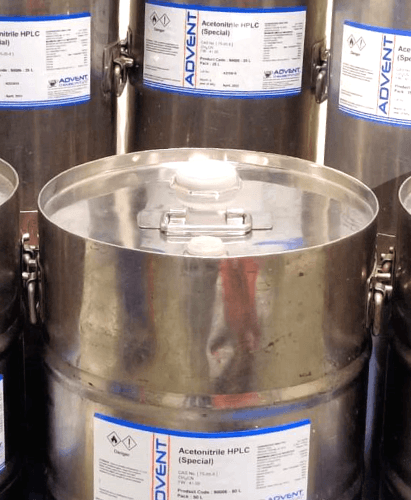 How does the process happen?
A representative from Advent or an approved channel partner will provide a custom-fit solution tailored to your specific requirements. We recommend having a minimum annual solvent consumption for certain container sizes.
If you have changes in your annual solvent demand, you will need to communicate these changes to us. This helps us to adapt to your actual usage and ensure you are delivered the quantity you need.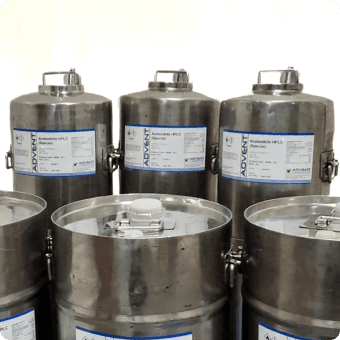 How to place an order?
To initiate the returnable container program, a signed agreement is required specifying the solvents used and the estimated consumption of the solvent, the container type, and required accessories. Once the order is placed, the returnable containers will be released for shipment by Advent. Advent will keep complete records of your solvent and container usage to ensure uninterrupted supply. Depending on the agreed process the containers are shipped through our distributor or directly to your lab.
How to return the container?
After consumption, the customer needs to contact Advent to initiate the return process. Once the process is initiated, Advent will get in touch with you directly; or through our distributor to establish a convenient shipping process. The un-rinsed empty containers with their original labels attached will then be picked up, cleaned properly by Advent and transported to our facility for next lot preparation.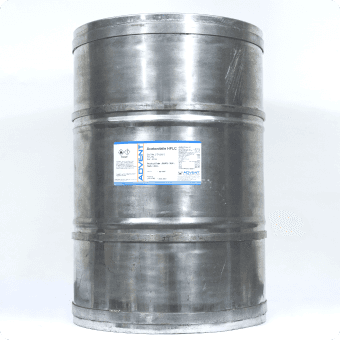 Advantages
High quality and safety with 316 stainless-steel drums.
With no hazardous disposal costs, and no rinsing done on-site.
SS Drums are environment-friendly.
The solvents take up less storage space. The number is as much as 50% less than glass bottles
With easy-to-grip handles and shatterproof SS 316 construction, our returnable containers are simple to transport.
Serialized containers for precise tracking.