Our Story
Bonding
Innovation

&

Chemistry

Together

Advent is a Mumbai-based chemicals manufacturing company and a leading supplier of Fine & Specialty chemicals, customized products and performance materials. We cater to the growing developmental and manufacturing needs of various sectors in the Chemical & Pharmaceutical industries.

Our product portfolio of more than 3000 products includes a wide range of Fine & Specialty Chemicals encompassing hosts of Inorganic salts, HPLC grade solids and solvents, Pharmacopeia Grade Solvents, GC grade solvents & GC Standards, Ion-pairing reagents, electronic grade products, Research Chemicals and reagents etc. as well as a variety of building blocks, advanced intermediates, pharma impurities and working standards.

Our Pharma Grade Solvents are manufactured under cGMP and conform to the requirements of IP, BP, USP, JP and Ph. Eur. Specifications.

Mission
To be among the top 5 leaders in Fine Chemicals & Life Sciences Industry by 2025 in India.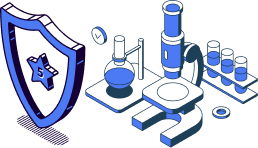 Vision
To become a trusted global manufacturer of Fine & Specialty Chemicals, Customized Intermediates, as well as Performance Materials that bring value to our customers and create a win-win relationship

Customer First
We practice consultative mode of engagement with our customers to provide value added solutions and develop a long-term win-win relationship.

Teamwork
We believe in teamwork leading to a synergistic way of working with each person thereby maximizing the individual strengths of team members to bring out their best and contributing to achieve a shared goal.

Ethics
We ensure that our employees operate with highest level of integrity, transparency, ethical behavior and conduct on both, personal & professional fronts.

Respect for People
We encourage the team to treat customers (both internal and external) with due respect so as to create long-term partners for mutual growth.

Excellence & Innovative Approach
We continuously strive to achieve highest standard of quality and passionately promote innovation in all possible manners for sustainable growth.
Our Leaders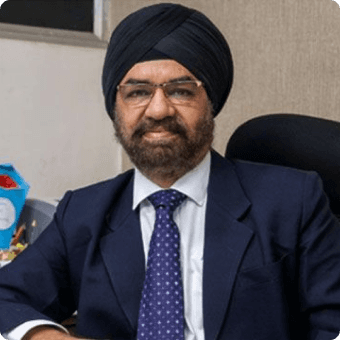 Amit Singh, CEO & Co-founder
Amit is the Chief Executive Officer of ADVENT CHEMBIO PRIVATE LIMITED®. An industry veteran with more than 3 decades of experience in Fine Chemicals industry and having worked with Ranbaxy, Glaxo & RFCL Limited (now a part of Avantor Performance Materials) in various functions such as Sales, Distribution, Logistics, Procurement, Production and Contract manufacturing he has a rich expertise in man and material management. A science graduate from Mumbai University and the all-India topper at the executive management program from IIT, Mumbai (2006-07 batch), Amit loves to explore new challenges and is a man of action.
Under his stewardship, ADVENT has achieved a remarkable growth trajectory since its journey started in Jan'2013 and established itself as a respectable brand in the domestic market with many leading pharmaceutical companies as its customers and has global footprints with exports to Middle East, Africa, South East Asia & Europe etc.
He loves travelling to new locations, listening to music and dabbles in the stock market.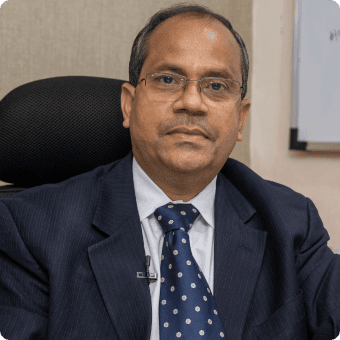 Dr. Rashmi Ranjan Mohanty, Director- Technical & Co-founder
Rashmi Ranjan is responsible for Quality, Research & Development as well as Innovation at ADVENT. He is also accountable for implementation of company's Quality Policies and Systems based on cGMP guidelines. A holder of M.Phil. and Ph.D. degrees in Chemistry from Utkal University, Odisha he has a working experience of nearly 3 decades in research, academics and industry (including his last stint at RFCL Limited as Head of R & D, QA & QC & Custom Synthesis division). He carried out his Post-doctoral research in the field of Chiral amines under the guidance of Prof. Thomas Nugent at Jacobs University Bremen, Germany and has research publications in international journals of repute like "Organic Letters", "Advanced Synthesis & Catalysis", "European Journal of Organic Chemistry" etc. and a European Patent to his credit.
A perfectionist to the core, through his systematic approach supported by a team of highly motivated chemists and scientists, Rashmi Ranjan is taking ADVENT to the Global platform in terms of expanding the Innovative product range and chemistries.
He is a student of Hindustani classical music and a voracious reader of books on Spirituality and Self-development.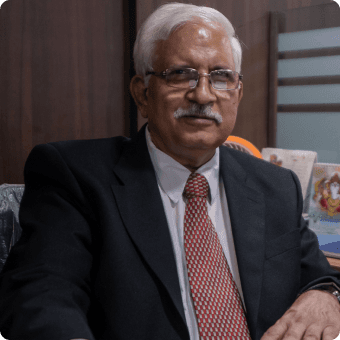 Rajesh Singh, Director- Production
Rajesh is responsible for the manufacturing & production activities at ADVENT. Having nearly 4 decades of rich & varied experience in manufacturing of Basic Drugs and APIs as well as processing and purification of Fine Chemicals, he also possesses good knowledge of cGMP and safety of both men & material. A Post graduate in science (M. Sc. Organic chemistry), he has previously worked with Ranbaxy Laboratories Limited & RFCL Limited at various manufacturing plants handling several basic drugs/APIs and processing and purification of high pure solvents, Inorganic solids, and many tailor-made products.
During his last stint at RFCL Limited as Senior Manager -Production he was responsible for the production at Tollers & contract manufacturing units and played a vital role to develop and establish many manufacturing & purification facilities in Gujarat and Maharashtra.
He loves reading self-help books, and listening to classical music.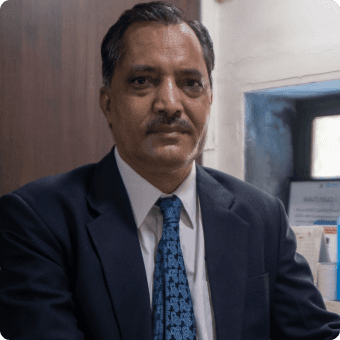 Shiv Bagri, Director- Supply Chain
Shiv is responsible for overall supply chain activities of ADVENT, which include procurements of various raw materials and packaging materials from domestic as well as overseas markets and servicing the finished goods to the customers in the shortest possible time.
He graduated in Commerce from University of Delhi and has done his GDMM in Materials Management from Indian Institute of Materials Management. With a rich experience of nearly 3 decades in various activities of Supply Chain Management, Shiv has previously worked with Ranbaxy Laboratories Limited, RFCL Limited (now a part of Avantor Performance Materials Limited), and Pidilite Industries Limited etc.
Shiv loves to visit different religious places and hill stations.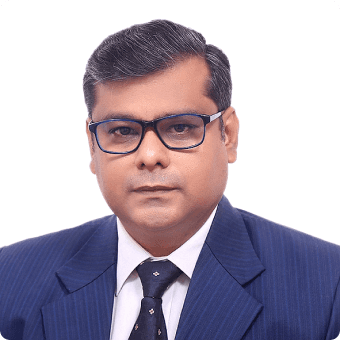 Dr. Sumanta Das, Director- Marketing & Business Intelligence
Sumanta is responsible for the overall business strategy, growth and customer relationship management and business development. Accomplished and result-oriented senior marketing professional with over 2 decades of experience in areas of sales, business development, product management and brand management.
He has taken on various roles in the past in varied industries such as Essel Propack Limited, HLL Life care Limited, 3M (India) Private Limited, RFCL Limited (now a part of Avantor Performance Materials Limited). A graduate in Science, Sumanta has an MBA degree in International Marketing (Major), Advertising & Sales Promotion (Minor), and completed M. Phil. equivalent coursework on Research Methodology from Centre for Research Studies - Birla Institute of Management Technology BIMTECH, Delhi NCR, India, in 2009. He was awarded Doctor of Philosophy (Ph.D.) in 'Management Science', in October, 2016 by University of Mysore, Mysore, India, and has published research papers in international journals such as "Journal of Medical Marketing: Device, Diagnostic and Pharmaceutical Marketing" and "International Journal of Management & Information Technology, Council for Innovative Research".
He enjoys playing table tennis and badminton and believes that life is a never-ending learning process…
Our Objectives
On the road to be among the best in the specialty chemical industry, we strive to achieve the following objectives:
Manufacturing of Key Specialty Chemicals, Value-added products and Performance materials (HPLC grade solvents, GC solvents, Ion-paring reagents, etc.)

Development of multi-compendial products (USP/JP/EP/IP grade), required by the pharmaceutical industry

Synthesis of key intermediates and custom synthesis products as well as the scale up of promising lead compounds of drug candidates

Development of new cost-effective and eco-friendly processes for high purity fine chemicals

Design and synthesis of exclusive screening compounds and combinatorial building blocks and Pharmaceutical Impurities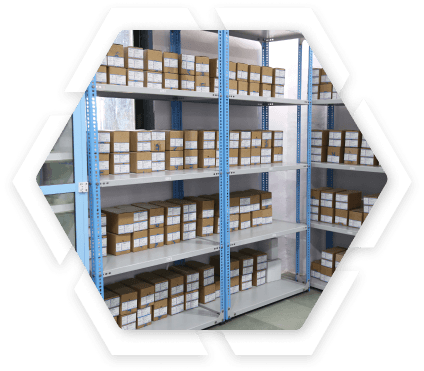 Manufacturing Facility
We have a state-of-the-art solvent distillation facility used for manufacturing Pharmacopoeia Grade solvents conforming to IP/BP/EP/JP /USP Specifications. Additionally, it has received a seal of approval from the FDA and is cGMP compliant.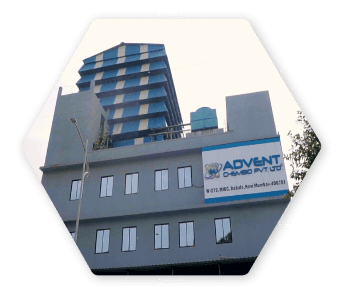 Quality Management
Our FDA-approved facility boasts a Central Quality Control Laboratory with the latest analytical instruments, including HPLC/ GC/ GC-HS/ UV- VIS Spectrophotometer etc.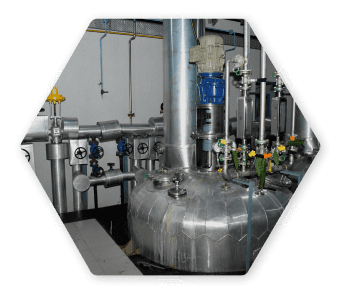 Kilo Lab Facility
Inside our world-class facility, we have a Kilo Lab facility to detect Pharma Impurities, Bile salts, and Custom Synthesis Products.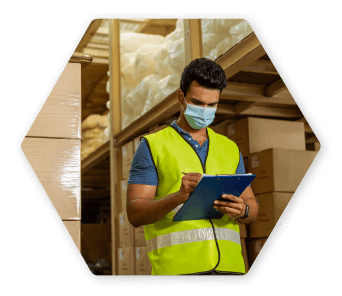 Warehousing Facility
Advent's Mumbai-based facility comprises a central warehouse with more than 25,000 square feet of storage area for quick domestic & overseas distribution.
How our expertise helped
our clients
Read More
Join us into this
science adventure
Apply now