Advent Chembio has a state-of-the-art, FDA-approved & cGMP-compliant solvent manufacturing plant at Rabale, Navi Mumbai. The plant's cGMP initiative ensures the appropriate design as per the local FDA, monitoring and control of manufacturing processes and facilities.
All the products are processed and stored in a quality-controlled area with the use of state-of-the-art equipment to ensure the highest quality and effectiveness of our products.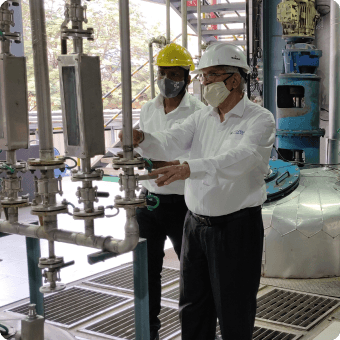 Advent meets FDA's requirements for the safety and efficacy of the Pharmacopoeia Grade solvents manufactured at the plant. We meticulously inspect all raw materials and test each product throughout the manufacturing cycle, carefully calibrating all our processes.
All employees at our renowned FDA-approved manufacturing facility receive extensive cGMP training to carry out their respective procedures.
Our FDA-approved manufacturing facility has the latest equipment to control the entire manufacturing process at each step, from raw ingredients to the final product. In addition to our own high standards of manufacturing, a variety of government agencies conduct periodic inspections of our facilities, requiring strict control of procedures and documentation
Advent Chembio is one of the finest FDA-approved manufacturing units with a clear focus on innovation and quality.
Benefits of being an FDA-approved plant
Adds credibility: Receiving a cGMP certification provides credibility to the organization. The certifications hold a lot of value in the healthcare sector, as the end-users in the pharma industry will have faith in your product.
Creates a competitive advantage: The certification helps in showcasing that our business is going above and beyond the quality standards.